Project "Computer criminality and fight against it"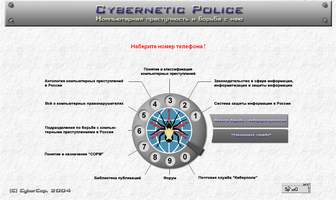 WWW.CYBERPOL.RU is a specialized scientifically-methodical and informational site "Computer criminality and fight against it ". On its electronic pages the concept, kinds, anthology of development and statistics of the computer crimes committed in the USSR and the Russian Federation are informatively explained. The site states the means, methods and system of struggle of the Russian special services with the given criminal trespasses.

The page http://www.сyberрol.ru/infoprotection.shtml sets out the concept, principles, purpose and primary goals of the state System of information protection in Russia. Subjects, objects, means, methods and measures on information protection are briefly reviewed. Typical kinds of threats to the information safety are specified. Terms and definitions in the field of information security are listed.

The page http://www.сyberрol.ru/infolaw.shtml is a computer-aided thematic catalogue with texts of Laws, Decrees, Provisions, Regulations and State standards in the field of information, informatization and information protection in the Russian Federation.

On the page http://www.сyberрol.ru/cybercrime.shtml the concept, criminalistic characteristic and classification of computer crimes are reviewed.

The page http://www.сyberрol.ru/statcrime.shtml shows the anthology of computer criminality development in the USSR and Russia, since 1982. Coloured diagrams illustrate official statistics, dynamics and kinds of computer crimes committed in Russia (the USSR) during 1982 - 2004.

The page http://www.сyberрol.ru/hackers.shtml gives the concept, kinds, criminological and criminalistical characteristics of computer criminals. Full-text slang dictionaries of hackers, carders, phreakers (frickers) are given.

The page http://www.сyberрol.ru/cybercops.shtml tells about the history of "Cyberpolice" creation and development in Russia. It also sets out the functions, aims and electronic addresses of Departments "K" (specialized units on fighting computer crimes) of the Ministry of Internal Affairs of Russia.

The page http://www.сyberрol.ru/sorm.shtml reveals the concept, history of creation and development, and also legal bases of applying automatized information systems of special purpose by law-enforcement agencies in the fight against computer crimes. Besides it narrates the functioning of the Russian System of operative - search actions (SOSA) and its foreign analogues. The normative-legal acts regulating the SOSA application are specified.